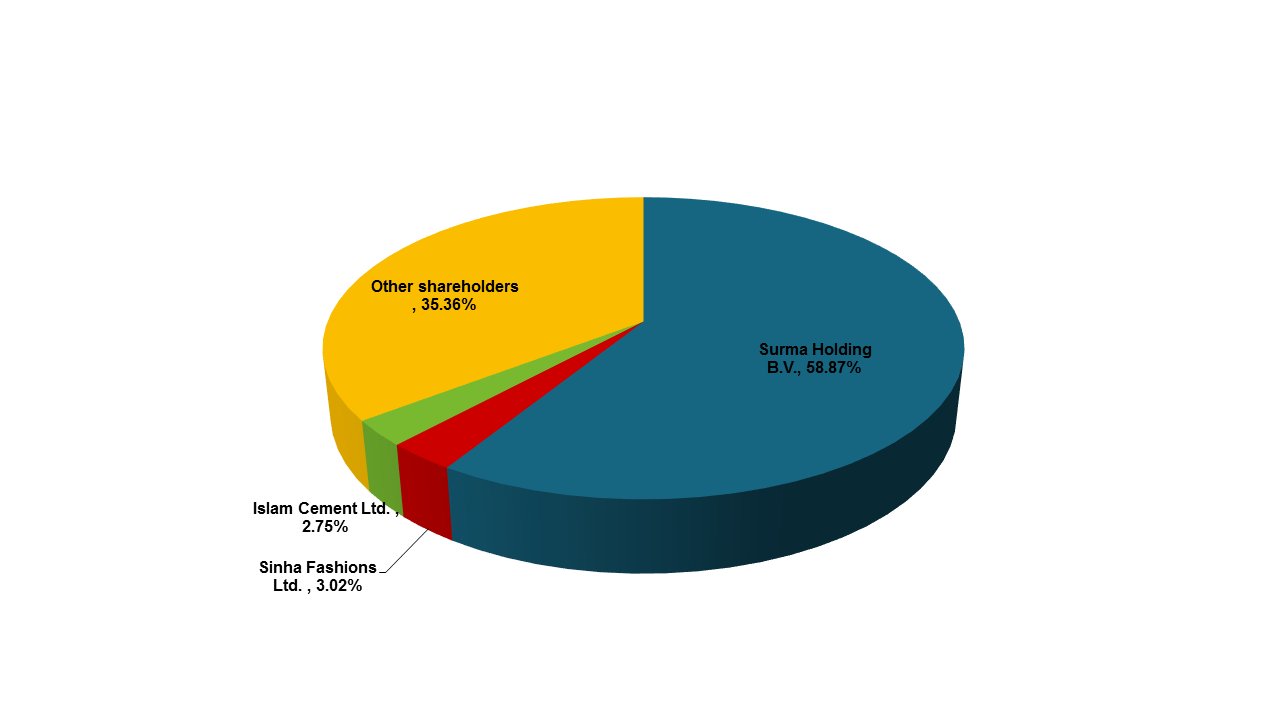 Our Company is listed at the Dhaka Stock Exchange and Chittagong Stock Exchange. The total Shareholdings of the Company are as under:  
Surma Holding B.V. 58.87
Sinha Fashions Ltd. 3.02
Islam Cement Ltd. 2.75
Other Shareholders 35.36
SURMA HOLDINGS B.V.
Surma Holding B.V., incorporated in The Netherlands, owns 58.87 shares of your Company. Lafarge S.A. (a subsidiary of LafargeHolcim) owns 50 shares of Surma Holding B.V., and the other 50 are owned by Cemolins Internacional S.L.U. of Spain.
LAFARGE hOLCIM
LafargeHolcim is the leading global building materials and solutions company serving masons, builders, architects and engineers all over the world. Group operations produce cement, aggregates and ready-mix concrete which are used in building projects ranging from affordable housing and small, local projects to the biggest, most technically and architecturally challenging infrastructure projects. As urbanization increasingly impacts people and the planet, the Group provides innovative products and building solutions with a clear commitment to social and environmental sustainability. With leading positions in all regions, LafargeHolcim employs around 90,000 employees in more than 80 countries and has a portfolio that is equally balanced between developing and mature markets.
CEMENTOS MOLINS
Another major sponsor, Cementos Molins, based in Barcelona, Spain, is a renowned cement company founded in 1928. With over 80 years of experience in manufacturing cement, Cementos Molins has industrial operations also in Mexico, Argentina, Uruguay, and Tunisia. Besides Lafarge S.A. and Cemolins Internacional S.L.U., the other sponsors of this venture are Islam Cement Limited and Sinha Fashions Limited from Bangladesh.
Investors Education Program