Image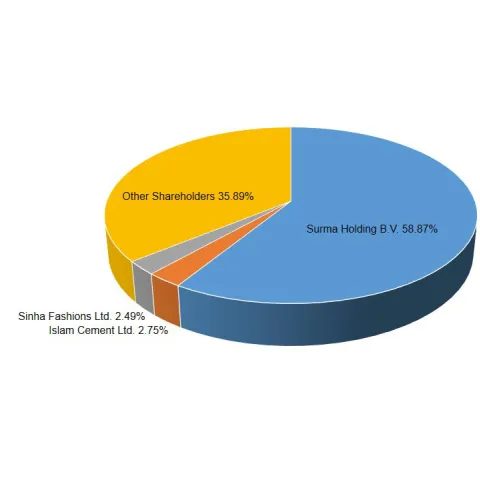 Our Company is listed at the Dhaka Stock Exchange and Chittagong Stock Exchange. The total Shareholdings of the Company are as under:  
Surma Holding B.V. 58.87%
Sinha Fashions Ltd. 2.49%
Islam Cement Ltd. 2.75%
Other Shareholders 35.89%
SURMA HOLDINGS B.V.
Surma Holding B.V., incorporated in The Netherlands, owns 58.87% shares of your Company. Lafarge S.A. (a subsidiary of LafargeHolcim) owns 50% shares of Surma Holding B.V., and the other 50% are owned by Cemolins Internacional S.L.U. of Spain.
hOLCIM
Holcim is a global leader in innovative and sustainable building solutions. Driven by its purpose to build progress for people and the planet, its 60,000 employees are on a mission to decarbonize building, while improving living standards for all. The company empowers its customers across all regions to build better with less, with its broad range of low-carbon and circular solutions, from ECOPact to ECOPlanet. With its innovative systems, from Elevate's roofing to PRB's insulation, Holcim makes buildings more sustainable in use, driving energy efficiency and green retrofitting. With sustainability at the core of its strategy, Holcim is becoming a net-zero company with 1.5°C targets validated by SBTi.
CEMENTOS MOLINS
Another major sponsor, Cementos Molins, based in Barcelona, Spain, is a renowned cement company founded in 1928. With over 90 years of experience in manufacturing cement, Cementos Molins has industrial operations also in Mexico, Argentina, Uruguay, and Tunisia. Besides Lafarge S.A. and Cemolins Internacional S.L.U., the other sponsors of this venture are Islam Cement Limited and Sinha Fashions Limited from Bangladesh.
Investors Education Program